Top 5 diff tools
Ratna's code base has grown a lot in the past few weeks. As we cope up with the changes, our tool to check "what has changed" in the last "N" days hasn't done a decent job. It was time to replace the diff tool. As, I started evaluating different tools available for source code changes, I couldn't find a list of diff tools (on the web) that would help us. Anyway, now that I have invested sometime to do the research, here's my list for "top 5" diff tools.
Criteria
To declare the "best" list, the following criteria is used -
Windows Support
Git support
Folder diff
Look and feel
KDiff3 is one popular diff and merge tool. KDiff3 is absolutely free under GPL license. While the tool is very capable (shows the difference inline), its not very easy to look. It's look and feel is still 90's look and feel.
The top two features within KDiff3 are -
Character Difference - Shows the differences line by line and character by character
Integrated Editor - Useful for solving merge-conflicts
If you use have used Windiff and liked it, you will probably like WinMerge. WinMerge is basic file comparison tool in our opinion. The tool is free under GNU license and is open source, so that scores.
The top two features within WinMerge are -
Merging folder differences - Supports copying items (files or folders) between folders, or deleting items.
Merging differences in files - Line level merge and within line merge
ExamDiff supports a lot of feature, but they come at a cost. Also, their three different SKUs confused us a lot.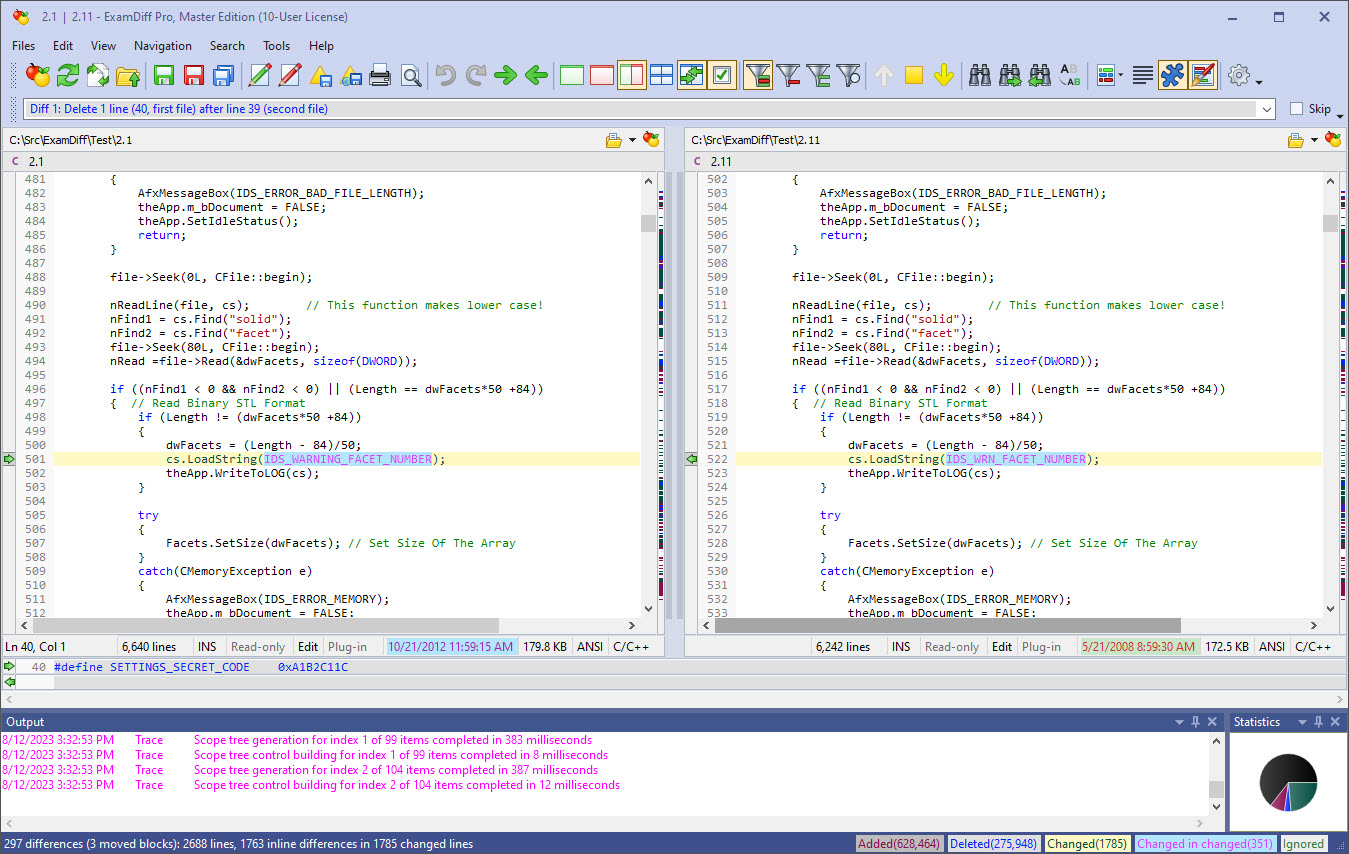 The top two features within ExamDiff are -
Highlight difference at character level - It can highlight word as well as character level differences
Extensive Command-line interface - This should get pretty handy for automation
Beyond Compare scores big in our opinion with its ease of use. Beyond compare is not free, but relatively cheap. It can compare both files and folders and allow three way merge.
The top three features within Beyond Compare are -
Compare files and folders - While this feature is supported by almost all tool, the visual representation is that stands out.
3 Way Merge - Can compare two versions of a file
Multiple file format - Beyond Compare can compare text, images and binary files
When it comes to diff and merge, no other tool impressed us as much as Araxis Merge. Keep in mind, Araxis is expensive, but it is worth every penny. You will recover (and more) the moment a developer saves 30 minutes in getting his/her job done (I can assure you, this will happen within the first week).
The top three features within Araxis are -
Visual Difference - The difference is highlighted in a way that makes it easy to "see".
Three way Comparison - Very useful when two developers work on the same file
Multiple file format support - Handy when comparing document changes